Over the past 28 years we at Ire Wel Pallets have been through many vicissitudes in the pallet and timber packaging manufacturing and supply industry.
Currently, the elements affecting our industry have come together in such a way as to create a perfect storm of challenges for all of us, suppliers and customers – but we will weather it together.
The nub of the issue is the decline in availability of timber and the global increase in demand for timber and timber packaging.
TIMCON, the Timber, Packaging and Pallet Confederation of which IWP is an active member and executive board member, is keeping us all up to date on the situation and possible solutions.
The main factors, as cited by TIMCON, for the recent and ongoing timber price increases worldwide include :
High demand for timber globally, particularly from China
Scandinavian timber flowing to the US market for construction
An unfavourable exchange rate caused by Brexit (sending their traditional suppliers to other markets with more favourable prices)
Baltic supplies down due to unseasonable wet weather
Good UK Demand
Subsidised biomass industry buying up small logs which the packaging and pallet industry uses
Weather has temporarily affected the harvesting of home-grown timber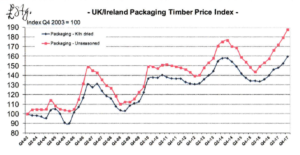 Ire Wel Pallets will continue to make every effort to assist our customers through this difficult trading period which we are confident will pass but not for some time yet.
As Stuart Hex, TIMCON general secretary comments : "…it's important not to lose sight of the fact that timber still remains the most economical choice of raw material for manufacturing pallets and packaging It is also the most environmentally friendly: it is reusable, repairable and recyclable and is a vital part of the circular economy."